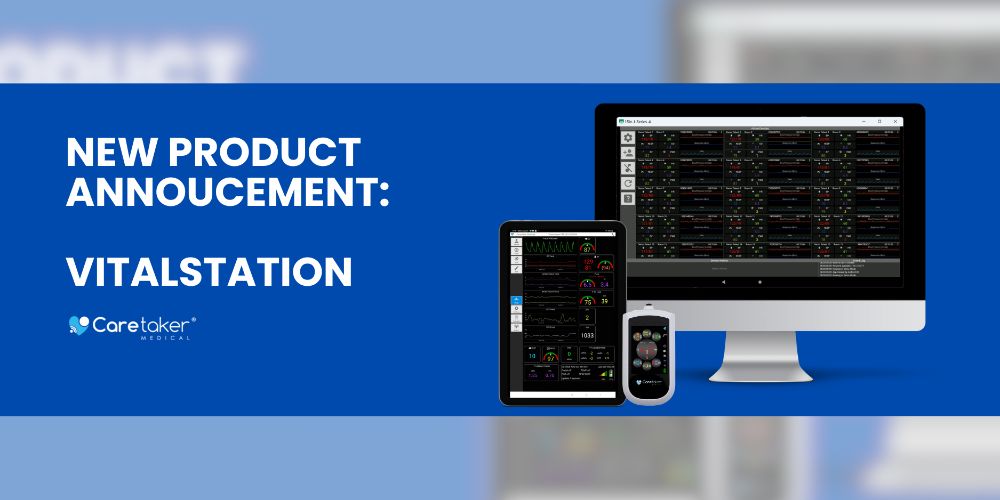 Caretaker Medical Launches VitalStation™ to Deliver Workflow Efficiencies and Cost Savings for Hospitals
Caretaker's new data aggregator and central display system can feed wireless health data for up to 30 patient rooms to the EHR through a single connection.
Caretaker Medical today announced the release of its new continuous vital sign central display console and data aggregator, VitalStation™. The product is designed to enable more informed clinical decisions, streamline clinician workflows and help reduce EMR integration costs.
VitalStation can help hospitals reduce operational costs by aggregating data for an entire room of wireless devices including Caretaker Medical's wireless VitalStream® hemodynamic monitor and companion vital signs sensors. The system can aggregate wireless monitoring data, including waveforms for up to 30 patient's and can securely forward discrete data to the EHR through a single HL7 connection. This reduces the expense of forwarding each patient's data independently.
"Health record organizations often charge hospitals for every device that connects to the EHR. This can get very costly for hospitals," described Jeff Pompeo, CEO of Caretaker Medical. "While there are other technologies that can aggregate data from medical devices, they can cost hospitals as much as $15,000 per patient room or upwards of $2 million a year."
VitalStation can also help clinicians operate more efficiently by allowing them to centrally monitor multiple patients' vital signs and hemodynamic status continuously and by automatically sending the data to a patient's electronic health record. This can decrease the time needed to manually take and document vital sign information. It can also reduce the likelihood of manual transcription errors.
"Most hospitals are operating on tight margins, dealing with staffing shortages and managing clinician burnout," explained Pompeo. "VitalStation's ability to automate data entry and centralize patient surveillance can help address these burdens. With VitalStream wireless hemodynamic monitoring and VitalStation data aggregation, clinicians can focus on what really matters, their patients."
In addition to providing ICU-quality continuous patient monitoring across the hospital continuum of care, VitalStation can also benefit mid-acuity healthcare providers. Outpatient clinics can use the VitalStream Continuous Care platform to wirelessly and continuously monitor their patient's blood pressure, vital signs, and hemodynamics without bulky arm-cuffs, invasive catheters, or cumbersome wires.
"In non-acute care settings like outpatient surgery centers, recovery treatment centers, even stand-alone emergency rooms, VitalStation can save nurses valuable time by centrally displaying the information instead of needing to walk around to each patient's monitor," described John Nichols, Director of Product Management at Caretaker Medical. "Time savings could help clinics provide more patients with the care they need." VitalStream is the world's only clinically validated and FDA-cleared wireless, wearable for continuous cardiac output and beat-by-beat blood pressure monitoring. For more information about VitalStream or VitalStation, or to schedule a demonstration, contact Caretaker Medical.
---
About Caretaker Medical
Caretaker Medical, founded in 2014, is a Charlottesville, Virginia based digital health company focused on developing wireless, high-acuity, continuous patient monitoring platforms that improve outcomes, increase clinician productivity and maximize patient compliance and comfort.
For media inquiries, please contact:
Jessica Aleles
Senior Marketing Manager
jessica@caretakermedical.net