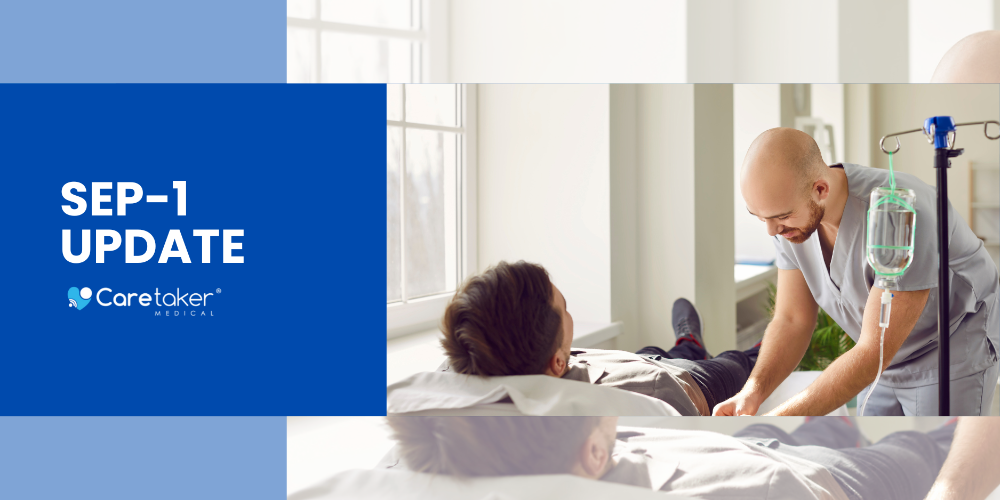 SEP-1 is becoming pay-for-performance in 2024 – Is your hospital ready?
Sepsis is one of the most deadly and costly conditions. But soon poor SEP-1 performance could be even costlier for your hospital. Starting in 2024, SEP-1 will be included in CMS's hospital Value-Based Purchasing (VBP) program.
The VBP program rewards hospitals for the quality of care they provide across four domains: Clinical Outcomes, Personal and Community Engagement, Safety, and Efficiency and Cost Reduction. The measure will be included in the Safety Domain as it aims to increase patient safety and further improve the quality of care.
A 2022 study in CHEST showed that completion of all SEP-1 compliance elements is associated with a lower 30-day mortality rate and a shorter length of stay.1 And while the reporting requirement has helped increase bundle compliance, there is still further to go. In July of 2018, the national average for compliance was about 49%. In 2019 and 2020 performance increased to about 60%, which then dipped slightly during COVID.
The Severe Sepsis and Septic Shock Management Bundle includes the following interventions:
Lactate measurements, blood cultures and broad-spectrum antibiotics administered within three hours of severe sepsis identification
Repeat lactate measurements within six hours if the initial lactate level is elevated
30 mL/kg of crystalloid fluids within three hours of initial hypotension or septic shock
Vasopressors within six hours of septic shock presentation if hypotension persists after IV fluid administration
Repeat volume status and tissue perfusion assessment within six hours of septic shock presentation if hypotension persists after fluid administration, or initial lactate is greater than or equal to 4 mmol/L
All qualifying interventions must be attained for a case to be considered compliant and hospitals will need to meet a compliance standard to achieve full payment. But when it comes to fluid administration, one size does not fit all.
The need for a personalized fluid decisions
Volume overload in septic patients is common and associated with an increased risk of morbidity and mortality.2 Overload can also lead to and longer length of stay and increased hospital costs.3
A 2020 clinical trial in CHEST, showed that using dynamic assessments to guide fluid administration may improve outcomes for patients with septic shock. The study demonstrated that using a passive leg raise to inform fluid and vasopressor resuscitation resulted in a lower net fluid balance and reductions in the risk of renal and respiratory failure. 4 Improved fluid status evaluation could also result in a cost savings of over $15K per patient. 5 This means that improved fluid evaluation and SEP-1 performance may also benefit your hospital's performance on the Efficiency and Cost Reduction domain's total cost measure.
Achieve SEP-1 compliance and tailor fluid administration
The SEP-1 guidelines are aligned with the International Guidelines for Management of Sepsis and Septic Shock which suggest that fluid administration be guided by a careful assessment of fluid responsiveness to avoid over and under resuscitation.In V5.14 of the Hospital IQR measure specifications manual, guidance was added to allow for clinical judgement and individualized fluid administration. Documentation of the cardiac output, cardiac index, stroke volume or stroke volume index used in the assessment is required if a lesser amount or no fluids are ordered. This was included because of the importance of fluid assessment on outcomes and costs of care, as well as the availability and accuracy of noninvasive technology such as VitalStream.
Leverage technology to improve outcomes and reimbursement
VitalStream is the only FDA-approved wireless, wearable ICU-grade advanced hemodynamic monitor that continuously measures blood pressure, cardiac output, cardiac index, stroke volume and stroke volume index among many other parameters and vital signs. It uses a comfortable, low-pressure finger sensor that can be fit, calibrated and monitoring within 90 seconds. This can make it easy for clinicians to quickly assess patients as soon as they come into the emergency room, where over 80% of hospital sepsis cases are identified. VitalStream also allows patient to be continuously monitored across the continuum of care including the OR, ICU or a step-down unit.
The fluid response feature allows clinicians to quickly and easily identify if a patient is fluid responsive. A fluid challenge timer and automatically calculated percent of change, gives instant and continuous measurements of the left ventricle's ability to increase stroke volume in response to a fluid bolus or passive leg raise.
The device can also be set up to continuously and automatically document per your hospital's SEP-1 directives to help alleviate the burden of documentation and streamline workflows.
With the right tools, technology and process, top SEP-1 performance is achievable. To learn more about how VitalStream can help you reach your SEP-1 quality goals schedule a demo today.
References: