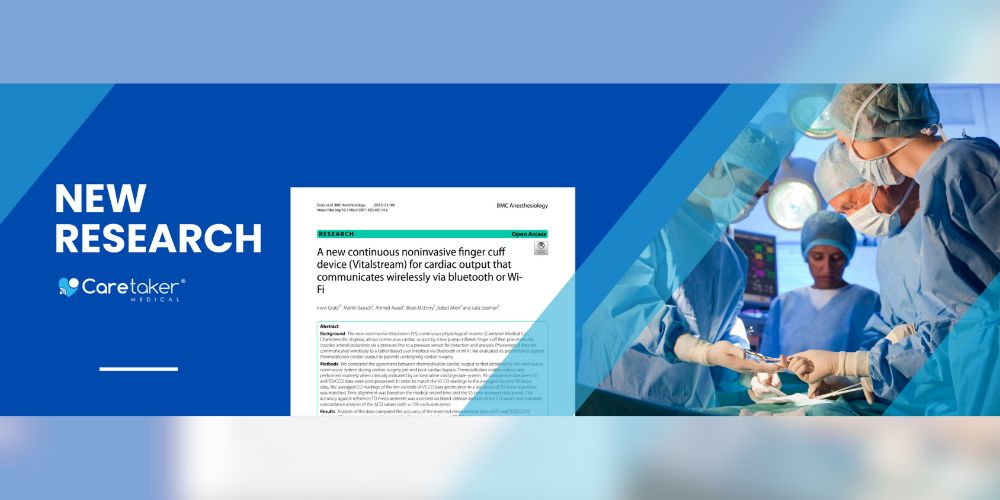 Study Finds that Caretaker Medical's Noninvasive Hemodynamic Monitor has Comparable Accuracy to Invasive Thermodilution
The new study shows that VitalStream, a wireless, wearable FDA-cleared hemodynamic monitor, produces comparable cardiac output measurements to a pulmonary artery catheter.
Caretaker Medical today announced the results of a new study published on BMC Anesthesiology that evaluated the performance of VitalStream®, a noninvasive, wireless, wearable advanced hemodynamic monitor, against invasive thermodilution cardiac output in cardiac surgery patients.
The study examined both absolute and trending cardiac output measurements. Both were found to be comparable to those obtained by an invasive pulmonary artery catheter (PAC).
"This study is important because monitoring technologies have traditionally been restricted to operating rooms and intensive care units, but the need for assessing and adjusting fluid status in other care settings like the ER is often critical," described Irwin Gratz, DO of Cooper University Healthcare. "A clinically validated, noninvasive and wireless device can be used quickly and effectively in other areas of the hospital and can therefore help improve patient care."
"The study results were achieved in a patient population that is characterized by a large range of cardiac outputs and all of the patients were receiving vasoactive drugs. These factors added to the complexity of the study," stated Gratz.
The use of pulmonary artery catheters has decreased due to the invasive nature and risks associated with the procedure. However, the information gained from a PAC allows for a better understanding of a patient's hemodynamic profile that can be used to improve outcomes. VitalStream showing comparable efficacy to a PAC gives clinicians an accurate and safer alternative that can be used with more patients and extend monitoring throughout the entire hospital stay.
The VitalStream device uses a low-pressure finger sensor and patented Pulse Decomposition Analysis to measure advanced hemodynamic parameters. It is the world's only wireless, wearable ICU-grade continuous cardiac output monitor to be clinically validated and FDA-cleared. For more information or to schedule a demonstration, contact Caretaker Medical. The full study can be accessed here.
---
About Caretaker Medical
Caretaker Medical is a leading innovator in wireless hemodynamic monitoring technology. With a mission to improve patient outcomes and enhance the efficiency of healthcare delivery, the company specializes in developing cutting-edge solutions that bridge gaps in medical monitoring caused by supply shortages or technological limitations. Caretaker Medical's focus on patient-centric innovation drives its commitment to delivering reliable, accurate, and accessible healthcare solutions.
For media inquiries, please contact:
Jessica Aleles
Senior Marketing Manager
Phone: 201-873-6776
jessica@caretakermedical.net